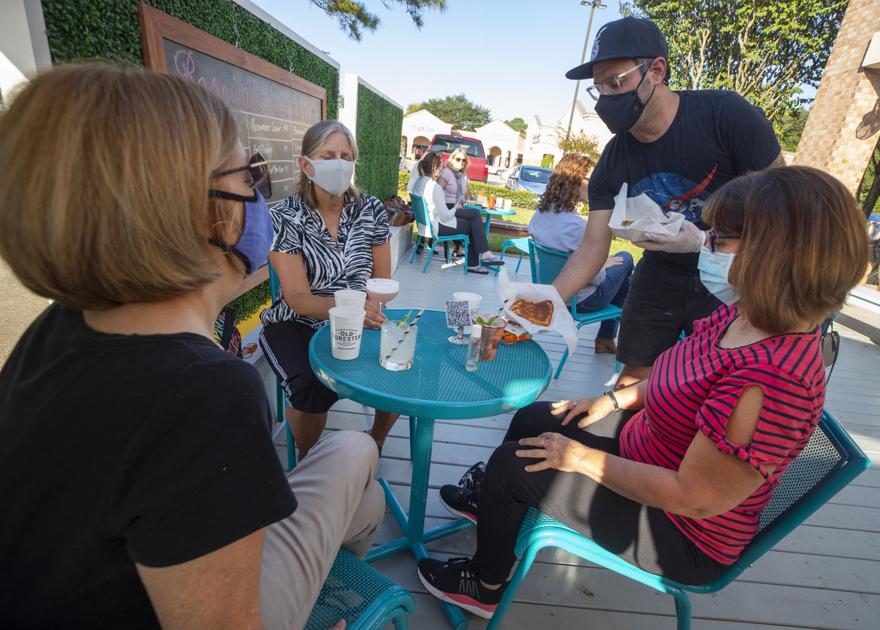 GALVESTON
A glass of wine and a Lunchable? Or how about a peanut butter and jelly sandwich with a fancy cocktail? Add these to the creative menu of things bars across Galveston County and the Clear Lake area are offering to make a living under pandemic orders to stay closed.
Bars across the county remain shuttered while other businesses and restaurants resumed operations because Gov. Greg Abbott has declined to let them reopen — that is, until a rule change that allows some bars to reopen if they beef up their food offerings.
Traditionally, the process of receiving a food and beverage license from the Texas Alcoholic Beverage Commission could be complicated, involving a hefty financial commitment to purchase commercial cooking equipment and other supplies, business owners said.
But the recent rule change has led at least some county bars to reopen after a few relatively modest creative food changes to meet the state agency's requirements.
For instance, Proletariat Gallery & Public House in Galveston's downtown has stayed open through the coronavirus pandemic by serving drinks outside and to go. Now, however, employees are preparing a new menu featuring a prepackaged meal, an adult version of Kraft Foods' Lunchable, in effort to get patrons back inside without getting outside the law, co-owner Heather Major said.
"We're trying to change with the times," she said.
ADAPT OR DIE
The Galveston business is far from alone in trying to adapt and survive.
Rosewater Clear Lake patrons can now order PB&J or bologna sandwiches, among other menu items.
The Proletariat Gallery & Public House, 2221 Market St., and Rosewater Clear Lake, 1606 Clear Lake City Blvd. in Houston, are among many area bars that have taken advantage of the Texas Alcoholic Beverage Commission amendment that makes it easier for bars to acquire restaurant licenses.
Essentially, officials with the commission in late August adopted an emergency rule, allowing bars to apply for restaurant certifications without meeting some of the traditional requirements to attain one, such as requiring commercial-grade cooking equipment.
"The amendments remove some of the more difficult and costly requirements for qualification for the food and beverage certificate so that these businesses can qualify without making major changes to their business models or investing in expensive equipment," officials said at the time. "Making the food and beverage certificate available to more businesses encourages them to operate in a manner more akin to a restaurant, serving food as well as beverages."
HARD BARRED
Bars were some of the last businesses to reopen during the coronavirus pandemic in late May, but they closed again a month later when Abbott ordered many businesses shut down to reduce the spread of the coronavirus.
Abbott has since allowed most businesses to reopen again, including allowing restaurants to open at 75 percent capacity, but has yet to allow bars to open.
"To be very honest, TABC is kind of a boogeyman, but I was blown away by how easy they made the process," Pasha Morshedi, an owner of Rosewater Clear Lake, said of the process for applying under the new guidelines.
For some bar operators, the possibility of reopening, even given the extra steps, was important to stave off financial ruin.
"We have had about 170 days of no business," said Cheryl Manchak, an owner and general manager of Ronnie's Hog Heaven, 4355 FM 517 in Dickinson.
The bar briefly opened in May and tried again a little later, before receiving a 30-day suspension for not understanding some of the commission's rules, Manchak said.
But after that, business officials did the paperwork and planned how to install a kitchen and cater items to reopen under the new guidelines, Manchak said.
The bar will now offer a rotating menu that might feature chili one day and gumbo or soup at other points, she said.
HERE TO STAY
Employees with Proletariat applied for the permit initially as a workaround to reopen the inside for students and others who use the space to study, Major said. But some of the changes to the business might be around to stay.
"We want people to have options, and everyone has different dietary needs," she said. "Pizza is not on everyone's diet. So, this is something we've wanted to do for a while."
The bar has long given customers the option to purchase pizza from nearby Mamma Teresa's Flying Pizza, 416 21st St., but will now prepare bento boxes both to go and for on-site consumption, Major said.
The bar will offer Mediterranean, vegetable, brunch and meat and cheese items, in part because of its limited kitchen space, Major said.
Owners of the business applied for the new permit a few months ago because it was a relatively low-cost option and received word back recently they had been approved, Major said.
SAVED By PB&J
Rosewater followed a similar process, Morshedi said. During the initial shutdown, bartenders began producing nonalcoholic cocktail mixers to go, which allowed the owners to provide sales information when it came time to apply for the new license.
Since those initial to-go sales, the business also started producing peanut-butter-and-jelly sandwiches and bologna sandwiches, as well, Morshedi said.
Although the cost of the permit itself isn't that high, some bars made a heftier investment than others in order to reopen.
Daiquiri Time Out, 2701 Market St. in Galveston, reopened Thursday, owner Brad Stringer said.
The popular Galveston bar is serving some food from nearby Maceo Spice & Import Company, 2706 Market St., as part of the effort to reopen, but employees also are waiting on the delivery of a food trailer to add to the menu offerings, Stringer said.
"It is a substantial investment, especially when you've been closed most of the year," Stringer said. "But it's one of those things where you either tack on extra debt or you close your doors."
No matter what happens, the bar likely will take a loss this year, Stringer said. But Stringer hopes it can ride out the rest of the pandemic with the new improvements.
Bar owners had long envisioned one day offering food, but the pandemic gave them a reason to innovate, Morshedi said.
"For us, the pandemic accidentally provided some opportunities," he said. "It forced us to be creative and experimental."
Rosewater likely will continue selling food even once Abbott reopens bars, which Morshedi said he hopes will be sooner rather than later.